Democratic Party committees in each of Fairfax County's nine magisterial districts are electing officers as Fairfax County Democratic Committee (FCDC, website here) starts its new biannual cycle. (See story on FCDC reorganization here).
In this article, we report on Springfield and Hunter Mill. We encourage other districts to send in names and pictures of their new leadership teams.
The Springfield District Democratic Committee (SDDC) elected its officers at a special meeting held at Pohick Regional Library on Dec. 10.  The prior leadership was unopposed and re-elected, providing continuity.
SDDC accepted 84 membership applications during the open period which ended December 1.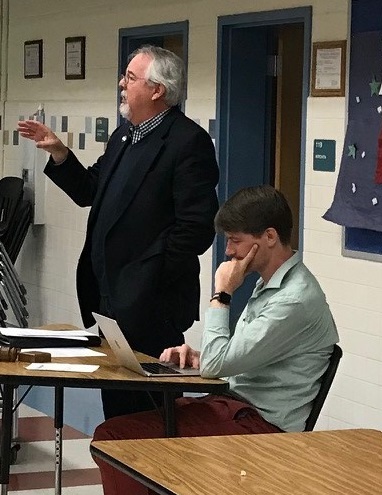 SDDC's elected leaders, L-R in main photo, are: Secretary Patty Helms, Membership and Volunteer Vice-Chairs Larry Mills and Kendy Taylor, Communications Vice-Chair Joy Curzio, District Committee Chair Jennifer Lowe Davis, Communications Vice-Chair Melissa Chabot, Precinct Operations Vice-Chairs Donna Reid and Ken Wheeler, and Treasurer Andrew Scalise. Not shown is Data Vice-Chair Frank O'Mara.
Also, Hunter Mill District Democratic Committee elected a new chair and re-elected its incumbent secretary at a meeting on Dec. 11 at Lake Anne Elementary School in Reston. Former Finance Vice-Chair Richard Chew stepped up to district committee chair, while Secretary Kenny Bledsoe accepted, by acclamation, to continue in his post.
Hunter Mill reported receiving 129 membership applications, just one short of the 130 limit on regular voting members, per district, recently adopted by FCDC. If applications had exceeded the limit, the committee would have been required to held a caucus to elect new members.
After electing district committee officers, the next step in FCDC's biannual reorganization is for all new members countywide to convene to vote for county-level officers including a replacement for outgoing FCDC Chair Dan Lagana. That meeting, at which members will also be asked to accept bylaws changes, will be held on Jan. 7 at 7:30 pm at Woodson High School. For more information, click here. 
Main photo: Newly elected officers for Springfield Distict Democratic Committee/ Photo by Reggie Meneses
Like this story? Share it on social media!