By Susan Laume:
Attend any political campaign event — knock on doors, call voters, go to a rally, and you'll see them: unassuming, dedicated twenty-somethings keeping events running smoothly, organizing campaign volunteers, managing schedules and fielding questions about their candidates.
The Blue View wanted to know more about this energetic group of unassuming individuals who keep their candidates in the spotlight. We talked to two of them about their jobs, backgrounds and motivations.
Rohan Ramesh, Campaign Manager, Linda Sperling for Springfield Supervisor: The campaign ended in a close loss to the multi-term incumbent Republican Pat Herrity with only about 400 votes separating the candidates. Rohan describes doing campaign work as a "unique field" where staff tend to move from one campaign to another. He has worked for several campaigns at race levels from local to Congressional.
Q: How did he become involved in this field?
Ramesh: Was "interested in politics in general in college" and did some campaign work while in school. He "saw the effect that a lot of people working together could have." His later internship in former Virginia Gov. Terry McAuliffe's office, which he describes as "hard work" brought him exposure, which led to field jobs in the Hillary Clinton presidential campaign, and on to other campaigns.
Q: How do those interested in the work find job openings? What are the salary and benefits?
Ramesh: "Email lists are circulated with names of those who have campaign experience." Recommendations from past campaigns are common. "Salaries range from $40,000 to 50,000," usually without benefits. Twenty-somethings under the age of 26 could rely on health care coverage under their parents' plans, although Ramesh indicated that some campaign jobs have started to offer benefits.
Q: What's next when a campaign is over in this unique career field?
Ramesh: "The focus is on winning, then to think about jobs after that." Campaign jobs are understood to be part-time with an end date soon after the end of the campaign, win or lose. Only a few workers go on to staff positions with successful candidates or find other aide work. Ramesh worked for House of Delegates Speaker-designee Eileen Filler-Corn for a few months during the General Assembly session as an aide after working for other campaigns in 2016. Usually one looks for another campaign; varying cycles of different level campaigns make it possible to go on to another.
Ramesh also worked on VA Del. Danica Roem's successful delegate race in 2017; then to Wisconsin for a Congressional race in 2017; and back to Virginia and the Sperling campaign in 2018. Now 25 years old, Ramesh was born in India. His family moved to Chicago when he was four, then to Loudoun County when he was in middle school. He graduated from George Mason University.
Sarah Duska, Director, Field Operations, Dan Helmer for Virginia HD-40: Her campaign helped to flip the Virginia House majority and set records for most doors knocked and most funds raised in a Virginia delegate race. She finds this career "allows me to live my values every day, bringing communities together, and helping to ask for better representation."
Q: What is work life like in this untraditional job?
Duska: "You are put in positions that challenge you. And you often put in 12, 14, or 20-hour days and work weekends to elect someone." There are inherent uncertainties with renting apartments, not having a job after the campaign, and keeping up with friends. "The team is important. They become family, people who are there with a shoulder or hug. They will be my friends forever."
Q: How is a typical team organized?
Duska: Duska is quick to acknowledge and commend her fellow team members. She also believes, "We need more women in the field, because we're really good at it." Each team is different depending on the character and level of the race. Helmer's team included a paid staff of ten: with directors of operations, field operations, finance, and communications; also, organizers and part-time finance assistance.
Q: What's next for you?
Duska: She indicates, "… I want a job with impact and challenge. … probably on a campaign or in politics." Relocating to Washington, DC, she will "take time off for a little while" before taking her next position.
Duska expected to have a career in service and education. After trying a teaching position, she found policies too marginalizing in Boston city classrooms. She then took a position at the Urban Leaders Fellowship to focus on policy and practice. That lead to campaign exposure in Colorado, knocking doors in a gubernatorial primary; then on to a Congressional District race, before joining the Helmer campaign. Now 25 years old, she was born in Baltimore, moved to Boston at 13, and first came to Virginia to attend college at William and Mary, majoring in economics and public policy.
The Blue View reporter's observation: These are talented and confident young people that we can expect to hear more about in years to come.
Photo: Sarah Duska served as director of field operations for Dan Helmer's campaign for Virginia HD-40 and Rohan Ramesh served as campaign manager for Linda Sperling for Springfield Supervisor. / Photos by Susan Laume.
---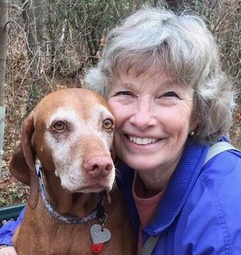 Susan Laume is a member of the Springfield District Democratic Committee and director of the Virginia Dog Army, an animal advocacy group.  She and her dog work as a therapy dog team.
Like this story? Share it on social media!